YEREVAN (CoinChapter.com) – Bitcoin has had a rough year, trading over 70% below its November 2021 peak, driven by macroeconomic headwinds. However, BTC showed signs of recovery, jumped 7% in the previous three days, and stood at $20,600 on Oct 27.
Bitcoin on-chain metrics suggests recovery
Moreover, crypto analyst and author Sophia Zaller noted the heightened on-chain activity on the Bitcoin network, despite the price avalanche. She provided a chart to prove her point and predicted an over 30% price appreciation for the flagship crypto.
Last year, $13.1 trillion was transferred over the network. 2022 YTD [year-to-date] transfer volume is $14 trillion, putting Bitcoin on pace for ~32% YoY [year-over-year] growth.

commented Zaller
The $14 trillion annual transfer volume is impressive. However, the figure alone is not enough to predict a bias change, as the metric does not specify whether network participants are buying or selling. So, are there other factors to support the bullish claim?
Tailwinds for Bitcoin
Additionally, according to crypto analytical platform CryptoQuant and its chief executive Ki Young Ju, data from exchange reserves could also provide a glimpse into the future BTC bias. The CEO noted the importance of stablecoins in the equation.
In detail, stablecoin concentration on exchanges generally means that investors prepare to swap them for crypto and not for fiat. As a result, the metric provides a historically bullish cue for Bitcoin and hints that the bottom is in. Additionally, the CEO noted the interest of institutional investors, which wasted no time in entering the bearish market.
Moreover, Bitcoin is experiencing a major outflow from exchanges, particularly Binance. Generally, it means that investors are not willing to spend their BTC. Such accumulation could lead to a price increase.
Caution! Bull trap ahead
As CoinChapter reported previously, Bitcoin does not fly solo these days. The influx of funds from institutional investors and growing adoption exposed Bitcoin to the broader market, which did not play out well in 2022.
While the geopolitical balance is not restored, and the energy crisis persists, it is not likely that the stock market can make a convincing recovery. Thus, due to the correlation between the crypto market and risk-on assets, Bitcoin will likely bleed more before it can manage a convincing bull run.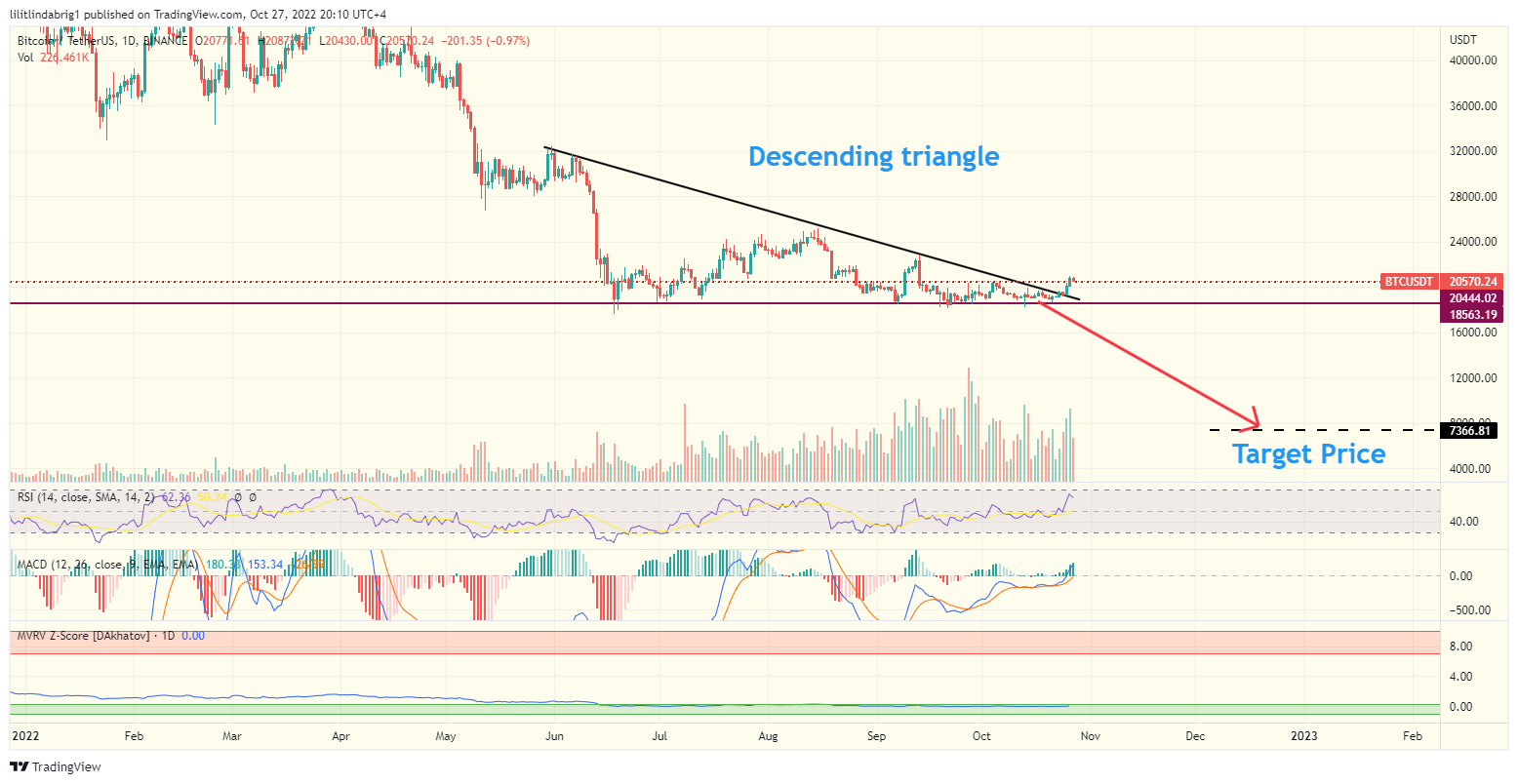 Moreover, trading volumes on the chart above declined in the previous month.
In detail, the declining trading volumes testify to lowering interest from investors, as they are reluctant to take risks in turbulent economic times. Thus, BTC investors should proceed cautiously, as the current uptick above $20,000 could be a bull trap.
Click here for more news on all things crypto, and keep up with the ever-changing market!
The post Bitcoin is Heading Toward Massive Recovery after Hitting $20K — Strong Signs Detected appeared first on CoinChapter.