Key Takeaways:
One day, Bitcoin (BTC) and cryptocurrencies will feature in Shah Rukh Khan's Bollywood films.
SRK, or King Khan, is one of the most popular Indian actors to feature on screen.
Here is what would happen if BTC were to meet Bollywood.
YEREVAN (CoinChapter.com) — Shah Rukh Khan (SRK), arguably one of Bollywood's biggest stars, turns 58 on Nov. 2. Ever since starting his acting career in the 1980s, he has played several roles. His movies have depicted various scenarios filmed in India and abroad.
But one topic is yet to be featured in "King Khan's" movies – Bitcoin (BTC). 
Here is a look at what a typical SRK movie would look like if Bollywood were to make him act in one. And yes, of course, it involves romance. Of course, Khan will tragically cry over some girl he loves, and yes, he will spread his arms in his iconic way to embrace Bitcoin (yup..not his crush) like a dozen times in the movie. 
Shah Rukh Khan saves Bitcoin (BTC) from the Mumbai office
It's a regular Monday morning for Aditya Sharma (Shah Rukh Khan). By 9:30 AM, he is already in his office in Malabar Hill, one of the most posh areas of Mumbai. It wasn't long ago when he quit his job as a KYC analyst at one of the city's leading banks to start his business. 
The year is 2014. Bitcoin (BTC) is slowly gaining popularity in India. Mumbai, as the business capital of the country, leads crypto transformation in the country. Mr Sharma, a Stanford graduate, entered the emerging sector early on. 
Along with his university friend Gopal Mukherjee, he formed Don Invest, one of the first crypto firms in the country. Their successful cryptocurrency consulting firm helps people invest wisely in digital assets. 
That morning, he was in the office an hour early. The Indian Parliament was to discuss the controversial crypto bill. The country's finance minister, Shushma Swaraj, had declared she would lay down her department's approach towards the booming sector. 
Sharma knew the government of the day was not crypto-friendly. Her announcement could either make or break his business. 
The previous night, it had not been easy on him. He could hardly get a shut-eye. Emotions ran high. What if the government bans crypto? What if she announces high taxes on crypto earnings, thus killing the industry?
Glued in front of the news channel, he waited for the Parliament session to start. Before his employees could show up, the phone rang. It was unusual. His business' did not open before 10 AM. To get a call that early was unusual. 
With nobody in the office, his private secretary could not answer the phone. After ignoring two full rings, King Khan decided to answer the call. Little did he know that it would change his life. 
Arjun Kumar wants to con Indian business investors
The Monday morning call was from Arjun, Aditya's cousin. He and Arjun were "chaddi buddies," or childhood friends. The literal translation of the term is 'underwear friend,' quite fitting for the duo who grew up together. 
Arjun's message was worse than anything the Indian Finance Minister could say that morning. 
Sandeep Mukherjee, the notorious yet charming business tycoon, had set his eyes on the crypto industry. Inspired by popular scams and rug pulls in the West, he had used his charm, connections, and popularity to defraud countless innocent investors of their Bitcoin (BTC) assets. 
Arun had first-hand information about the modus operandi Mukherjee used. He had already lost $12,000 after trusting the dude, and he was about to expose him. But he needed help. For that, he could only rely on Adiyta. He was not only upright and honest but had fundamental knowledge about Bitcoin (BTC) and the crypto industry. 
Mukherjee had floated a crypto exchange called Aazadi, with its native token called AAZAD. With slick marketing and celebrity endorsements, his firm had become popular all over India. 
But Arjun, who had become a victim, knew this was a scam. The crypto token Mukherjee promoted was nothing but a rug-pull. However, to expose him, he needed Aditya's help. 
Ror the upright and honest Aditya, honesty was above all. He was willing to risk everything to save the crypto industry from fraudsters. They hatched a plan to capture Mukherjee. 
Aditya (Shah Rukh Khan) saves the day
Thanks to Arjun, Aditya learned about Mukherjee's plans. He began working out a plan to stop him. But he knew it wouldn't be easy. 
He ran a crypto firm. To him, Mukherjee wasn't a competition. He represented everything the industry dreaded. The Indian government, especially FM Sushma Swaraj, relied on such bad actors to ban crypto. 
Hence, Aditya embarked on a mission to save innocent investors and the cryptocurrency industry from disaster.
Fate had an unforeseen plan for Aditya in his quest to save Bitcoin (BTC)
As Aditya delves deeper into the case, he discovers that Mukherjee is holding a young woman named Payal as hostage. The character is played by the talented actress Deepika Padukone. 
Payal is entangled in Mukherjee's web. He holds her hostage. Aditya's heroic instincts kick in as he vows to rescue her and Bitcoin from Mukherjee. 
However, there is a problem. She appears to be enamored by her captor. Mukherjee's charm and charisma have gotten to her. She is in love with him and is unwilling to be saved from him. 
Aditya isn't one to give up easily. He connects with Payal to plan her escape from Mukherjee's clutches. However, Payal's loyalty to Mukherjee becomes a source of inner conflict for Aditya.
To thwart Mukherjee's nefarious plans, Aditya devises a brilliant plan. He pretends to be a wealthy investor interested in partnering with Mukherjee, thus gaining access to his inner circle.
The tension escalates as Aditya risks everything to gather evidence against him.
In the climactic showdown, Aditya successfully exposes Mukherjee's crypto fraud and apprehends him with the help of the Mumbai Police. 
Justice prevails, but it's not without its emotional complexities. Payal, despite acknowledging Aditya's heroism, opts to stay loyal to Mukherjee. This causes him a heartbreaking moment, making him sob hysterically. 
With Mukherjee now behind bars and Bitcoin (BTC) and the cryptocurrency industry saved, Shah Rukh Khan's movie delivers a thrilling blend of action, drama, and romance. It underscores the importance of integrity in the crypto world while exploring the intricate dimensions of love and loyalty.
Bollywood can propel Bitcoin (BTC) price
While Bitcoin is yet to feature in a major Bollywood film, the day is not far when Shah Rukh Khan will tap into the world of cryptocurrencies to make a new Bollywood Blockbuster.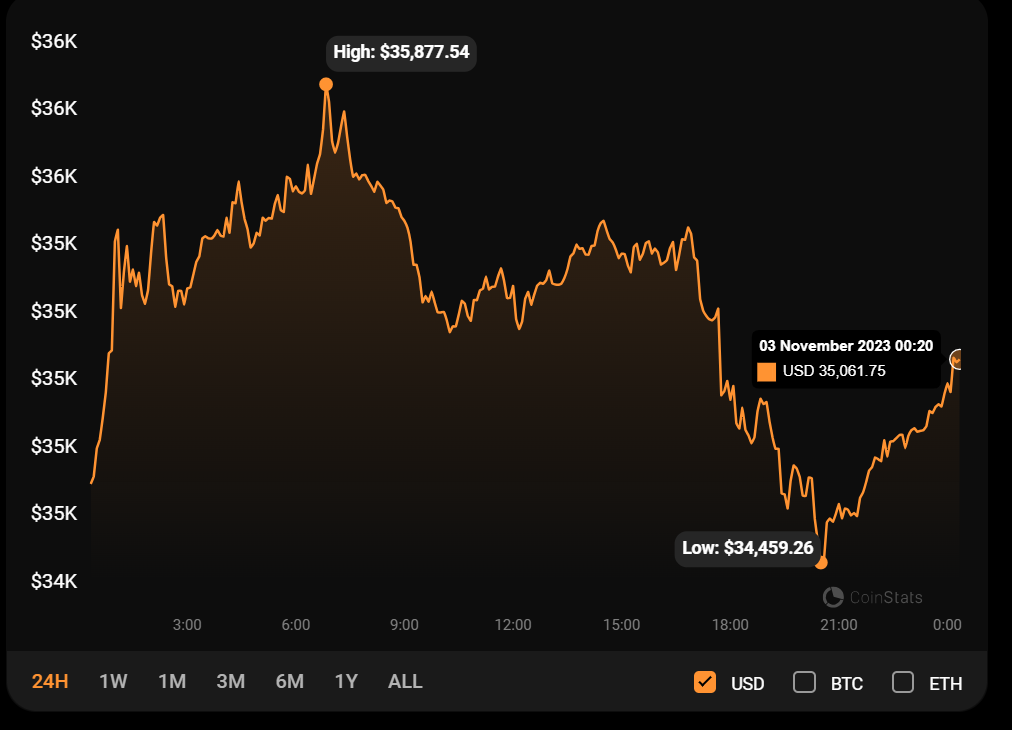 Bitcoin price currently trades around $35,000. However, should Shah Rukh Khan feature it in his film, it would undoubtedly make a run to the moon.
Until then, all that's left to say is Happy Birthday, King Khan. May Bitcoin (BTC) and the crypto industry define Bollywood in the future.
The post Faking Fridays: Dunki Star Shah Rukh Khan Will Do a Bitcoin Movie appeared first on CoinChapter.