YEREVAN (CoinChapter.com) — The recent collapse of the cryptocurrency exchange FTX is wrecking families. Many investors, who held their hard-earned savings in Sam Bankman-Fried's crypto exchange, are expressing their frustrations on social media. Many have come out to narrate how the FTX collapse destroyed their lives. 
Social media platforms such as Twitter are full of posts from disheartened, confused people trying to make sense of what is going on. While some ask for help, others curse Bankman-Fried for robbing them of their funds. 
"Hi, my name's Sean, and 9th November 2022 FTX and Sam Bankman-Fried ruined my life. It's was fun while it lasted," 

one investor wrote. 
As CoinChapter reported, FTT, the native token of FTX, tanked after worrying reports emerged about Bankman-Fried's trading firm Alameda Research. The revelation resulted in Binance CEO Changpeng Zhao saying his company would dump its FTT holdings, sending the FTX token tanking. 
Although Binance initially announced it would bail the exchange out, it backed out from the offer to buy FTX. 
The result? Thousands of investors who trusted FTX and its founder with their hard-earned money are left wondering what to do. 
Sam Bankman-Fried and FTX deserve no sympathy!
Sam Bankman-Fried's utter criminal, irresponsible and reckless attitude has no justification. Instead, his actions have destroyed thousands of families and shattered hopes, perhaps driving many to suicide. 
His wealth has diminished from $16 billion to practically zero, forcing him to file for bankruptcy, with $650 million in debt to lenders. The once flamboyant young crypto billionaire stand humiliated, the consequences of which will (or at least should, if there's any justice left) send him to jail. 
However, Sam Bankman-Fried (SBF) deserves no sympathy. Despite publicly apologizing (yeah, what's that worth in dollars? Zilch!), one should not shed a tear for him. He is likely to be declared a criminal and should be treated as one. In his own words, he "fu**ed up and should have done better."
The only people who deserve sympathy are those who suffered and continue to suffer because of him, his trading firm Alameda Research, and his cryptocurrency exchange FTX. 
Imagine the type of heartless, spoilt brat one must be to take out the funds given by investors to shower them on his political connections. According to a report by Open Secrets, the FTX founder is the sixth-largest political donor. His donations to political campaigns amount to nearly $40 million for the 2021-2022 cycle.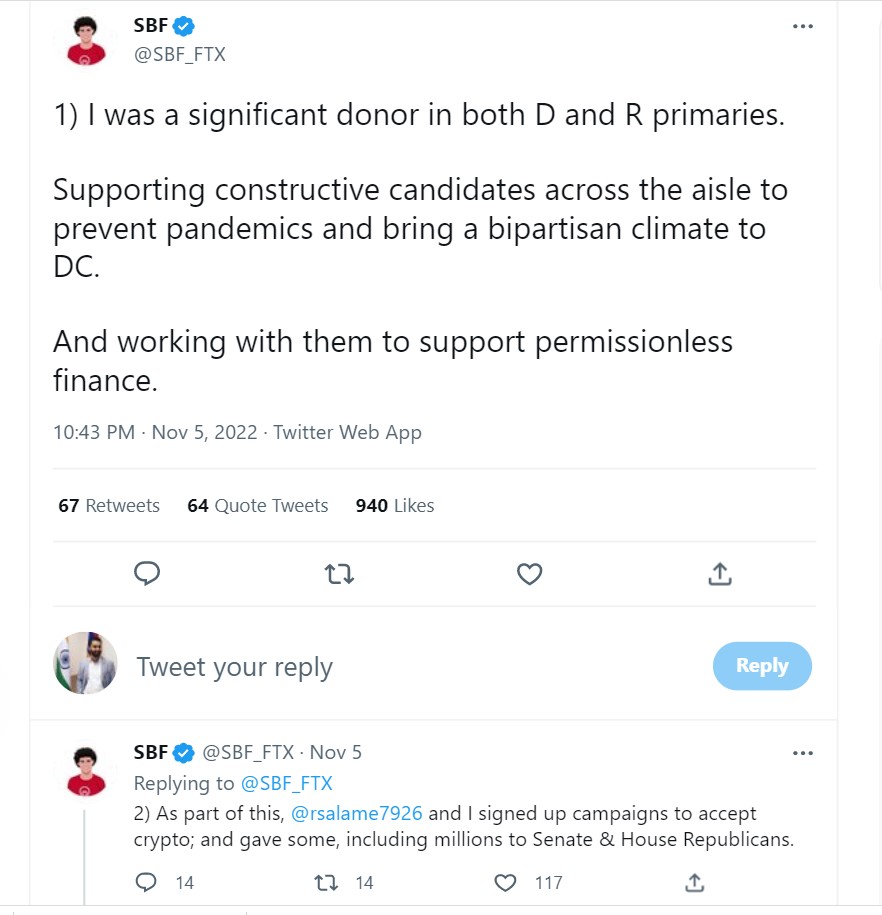 In 2020, SBF donated $5.2 million to US President Joe Biden's election campaign. If you think that was a lot, he had planned to spend up to $1 billion to help Democrats stop the potential return of former President Donald Trump. 
Whose money was he going to use to do that? No prices for guessing. 
The billionaire charade of Sam Bankman-Fried 
Now that the can of worms has been opened, it has become clear to everyone that the founder of the FTX exchange was never a billionaire. Instead, he pumped up a fake coin and then used it to leverage investors' funds while acting like he had money. 
Once the regulators finish with him, don't be surprised to see all the figurative skeletons Sam Bankman-Fried hid in his closet. For example, some people have alleged that he secretly cooperated with SEC chair Gary Gensler against the crypto industry. 
Meanwhile, SBF won many hearts by announcing that he had planned to give away all his earnings to charity. Aww, how cute right? But what earnings? 
Like Hans Christian Andersen's folktale, Sam was nothing but a crypto "emperor" wearing no clothes. One day, someone was going to point it out. You can't roam naked all day. 
But this isn't about him. Nobody cares if he has lost his billionaire status. It is about the hundreds of people that his greed has ruined. 
"I have a wedding this weekend. I've serious amount of money left in FTX & can't withdraw it. This company has ruined my life. I am doomed. I hope those who caused this suffering," 

one investor lamented. 
Imagine trusting someone you look up to only to wake up to the news that he has flushed your money down the toilet. How devastating can that be?
Recommended: What is Alameda Research and Why is It Crashing Crypto Market Today
Not your keys, not your crypto
Every time a major hack or a crypto exchange experiences a glitch, pundits repeat the phrase, "Not your keys, not your crypto."
The entire FTX fiasco has come to prove this point once again. Keeping your crypto tokens in exchanges is risky and a bad idea. But crypto exchanges offer some "perks" besides the risk. Unfortunately, sometimes those become bait in a trap.
Traders keep their tokens in cryptocurrency exchanges, such as FTX, because they earn rewards. By staking their crypto, these traders are rewarded with different cryptocurrencies. This has proven to be a very attractive proposition. Nothing wrong with it. However, when disaster strikes…
Founders of these crypto exchanges have nothing to offer but apologies, like the one Sam Bankman-Fried posted. 
Half-hearted apologies and empty words do nothing to return the funds traders lose because of exchanges. 
"You have ruined the lives and illusions of 1 million people, for playing with their money, there was little left to ruin those of us who are still here, now you come here to ask for forgiveness? all people like you should end up in jail, and out of the ecosystem," 

one angry trader responded.
This week was a bad day for crypto. After Do Kwon, Alex Meshinsky, and Su Zhu, the industry hoped there would be no more fake crypto leaders. But, unfortunately, some like to live at the expense of others—shame on them. FTX Collapse destroyed people's lives. Sam Bankman-Fried should be jailed. 
The post FTX Collapse Destroyed People's Lives – Hope Lost. Sam Bankman-Fried should be jailed appeared first on CoinChapter.