Key Takeaways:
An announcement by the Brazilian central bank resulted in gráfico bitcoin agora trending on Google in the region.
Meanwhile, BTC price continued to consolidate above $30,000
NEW DELHI (CoinChapter.com) — Growing interest in Bitcoin in Brazil resulted in the popularity of the phrase 'gráfico bitcoin agora,' or bitcoin chart now, reaching its highest in five years, according to Google Trends.
Why Brazilians Searched 'Gráfico Bitcoin Agora'
The reason why Brazilians searched 'Gráfico Bitcoin Agora' might be an announcement from the Banco Central do Brasil, the Brazilian central bank.
According to a report by the local newspaper Valor, the central bank announced the addition of the crypto exchange Mercado Bitcoin to participate in the country's CBDC pilot.
In addition to the crypto exchange Mercado Bitcoin, the consortium includes Mastercard, broker Genial, registrar Cerc, and financial software fintech Sinqia as partners.
Our participation validates the Central Bank's intention to bring innovation to the financial system with those who had already been working with this technology and not just with the incumbents who appropriated it

Fabricio Tota, director of new business at crypto exchange Mercado Bitcoin, said
Earlier, the Brazilian central bank had excluded the crypto exchange Mercado Bitcoin from the consortium. The situation changed after the crypto exchange received a payment institution license from the central bank on June 2.
Meanwhile, news of crypto exchange Mercado Bitcoin joining the consortium resulted in increasing the popularity of the search phrase 'gráfico bitcoin agora.'
BTC Price Continues Consolidating Above $30,000
While Brazilians searched 'gráfico bitcoin agora,' BTC price rallied 1.5% on June 27 to reach a daily high of $30,690.
BTC price has been consolidating above $30,000 since June 23. The price action suggests that traders are waiting for the next bullish cue before entering the market. If buyers enter the market, Bitcoin price might rally to $31,200.
Related: Bitcoin Price Could Correct In Short-Term As Dips Turn Attractive
Moreover, breaking above the immediate resistance level could help BTC price rally to the resistance near $33,000 before corrections pare gains.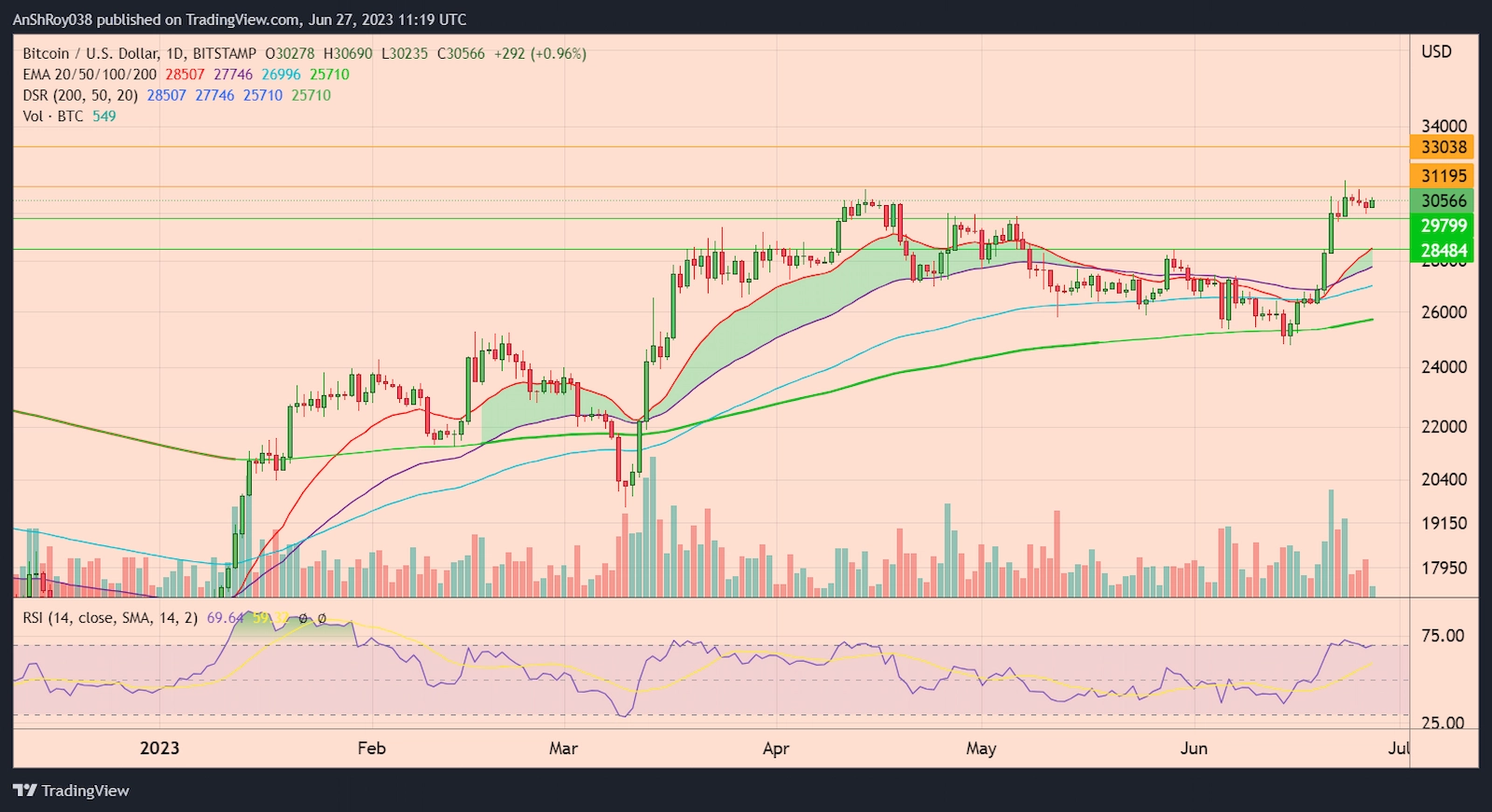 Conversely, a crash in prices could force BTC price bulls to defend the support level near $29,800. Moreover, breaching the immediate support level might force Bitcoin price to test support near $28,500 before recovering.
The relative strength index for Bitcoin remained near the overbought threshold, clocking at 69.64 on the daily charts.
The post 'Gráfico Bitcoin Agora' Trends In Brazil As Central Bank Adds Crypto Exchange To CBDC Pilot appeared first on CoinChapter.