Key Takeaways:
An entrepreneur has accused Stripe of holding back $60,000 in funds from a small business
According to the payment processing firm, the business had several chargebacks filed against it
Stripe had suspended processing Bitcoin (BTC) payments in 2008
YEREVAN (CoinChapter.com) — Remember when payment processing giant Stripe ended support for Bitcoin (BTC) payments? Turns out, it was a blessing in disguise. The company has since become notorious for creating problems for small businesses. Receiving payments via the company has become a nightmare for many.
The issue, although not new, was mostly forgotten about until a new incident dragged it back into the limelight. It turns out yet another small business has fallen victim to Stripe's 'I can do whatever the hell I want with your monetary policy.
According to Codie Sanchez, investor, business coach, and founder-CEO of Contrarian Thinking, Stripe has rendered one of her clients helpless. As she alleged in a detailed Twitter post, the payment processor is now holding back the small business's funds. 

What is even more outrageous is the fact that it may well reserve itself the right not to retune the funds to the business if it so chooses to. 
"Stripe just shut down a small biz we own and said they "may give our money back in 30 days." Criminal. People for years have said Stripe was awful for small guys and bankrupted people. I didn't believe it. Now I do," 

she wrote
The small business in question had just hit $60,000 in revenue. However, at this important juncture, Stripe didn't fail to disappoint. It informed the business (only after they enquired, BTW), that it was "unable to support" their business. Additionally, they informed me that the best they could do was "look into doing a partial release of the funds after 30 days". Outrageous, right?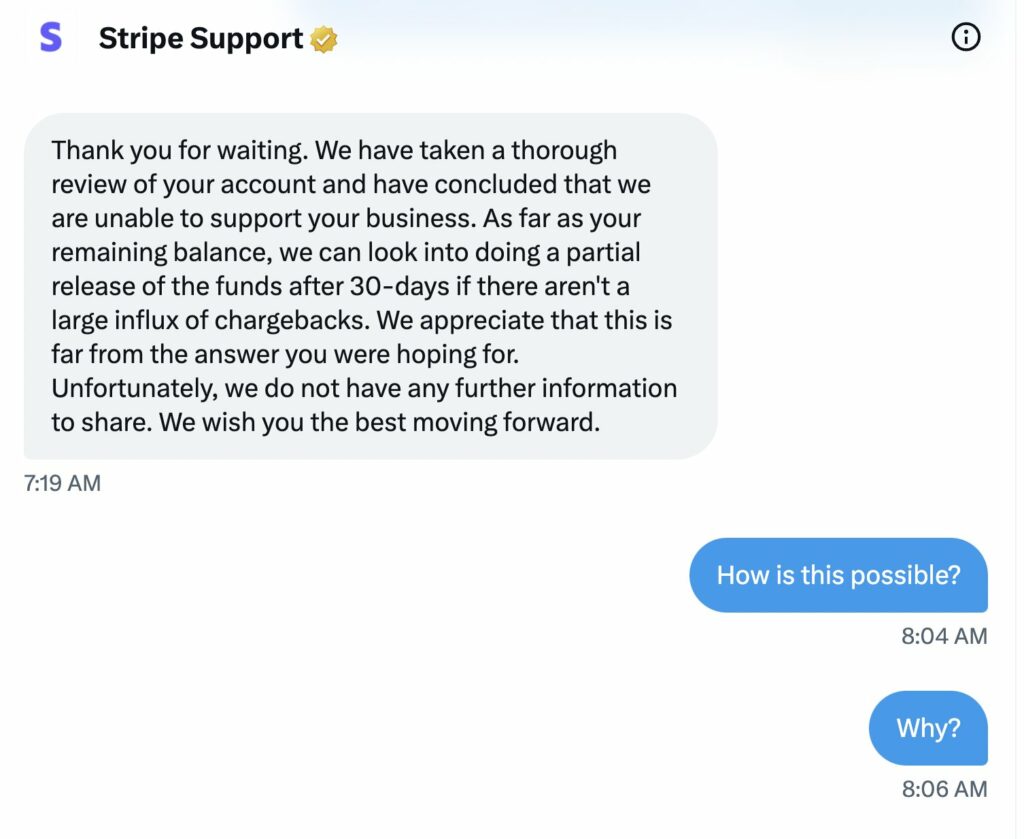 Also Read: Optimism (OP) and SUI Set for Massive Token Unlocks Valued at $650M
Stripe jumps in to explain
The incident, as mentioned, is not new. A quick Google search on terms like "Stripe stole my money" or "Don't use Stripe" brings up a list of allegations. 
Several businesses have come out to narrate their experience with the company. Admittedly, some of them seem fake. A few of the complaints and allegations are just reputations of the same thing, word-for-word. 
However, as the saying goes, there's no smoke without fire. For this not to look like I am penning down a hit piece against Stripe, let us return to the issue at hand. 
After Codie Sanchez's post grabbed the attention of Twitter users, the company, (well, someone from the company), decided to respond. 
A user called Sam Mcallister, who claims to be working for Stripe, volunteered to offer some clarification. Now, we don't know what he does for Stripe, but according to his profile, he does "internet things" for the company. We all do internet things at our job these days, don't we? 
Anyways, it turns out, Stripe decided to take action because "the business has a chargeback rate far in excess of what's permissible".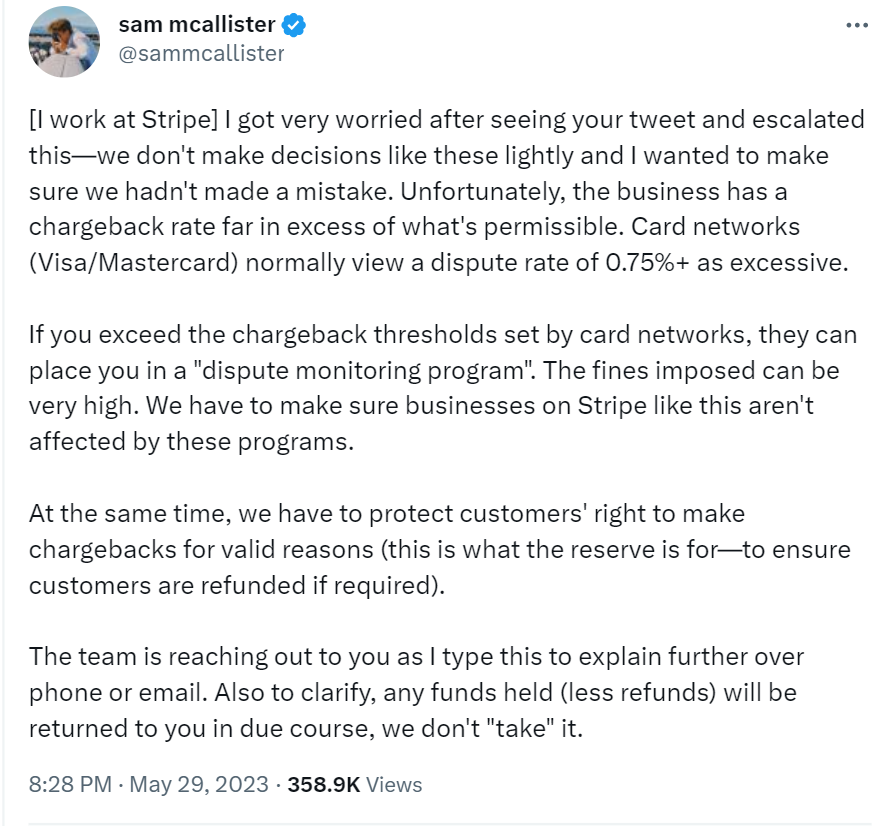 In other words, few customers raised a dispute with the business and Stripe acted upon their complaints. Seems legit, right?
Imagine how easy it would be for competitors to get you out of business. Anyone could get people to file for chargebacks on your website, and in a month, Stripe will strike.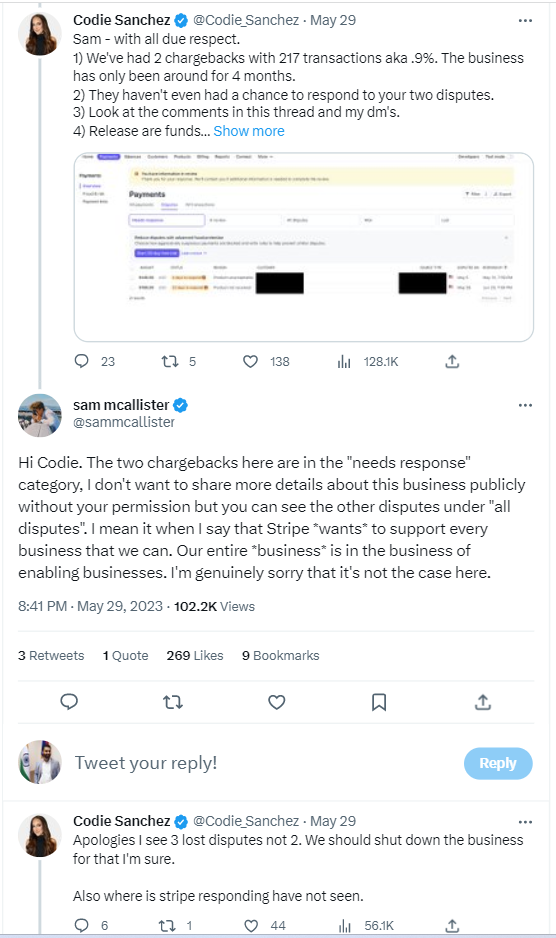 What's even funnier is the fact that the company was allegedly unable to get in touch with Stripe after several attempts. But one viral Twitter post and someone just shows up with an excuse…errr… I mean, explanation. 
Thank God Stripe can't hold your crypto back
There was a time, in the days gone by, when you could accept payments in Bitcoin (BTC) using Stripe. How lucky for you that you can't anymore. 
Imagine the company holding back your crypto because a few users couldn't ask for a refund and filed for chargebacks instead. 
No, we get it, the entire exercise is to protect customers. As Mcallister explained, it is to ensure that they get their funds back even if the business goes bankrupt. But holding back funds for 30 to 90 days can be detrimental for small businesses. 
The guy doing "internet things" for Stripe claims that the company withholds only 10%–25% of funds to cover future refunds. However, based the financial service firm has allegedly held 100% of the total reserves of the business. Codie Sanchez shared a screenshot as "proof" of this.
It is absolutely important that customers feel protected. No two ways about it. However, payment processing firms have too much power in their hands. If you are a small business looking to accept payments, there aren't many payment giants you can rely on. 
Stripe can do better than just holding funds hostage. It's a good thing small businesses don't accept Bitcoin (BTC) via Stripe. So if you were angry that they suspended accepting Bitcoin payments, don't be. Maybe it was a good thing.
The post Opinion: Stripe's Bitcoin (BTC) Service Termination Was a Blessing in Disguise appeared first on CoinChapter.