YEREVAN (CoinChapter.com) — Sam Bankman-Fried is a criminal and a fraud. How else should one characterize a person who cheated millions of people of their hard-earned money? SBF, as he is popularly known, greedily crashed his company to the ground. Not only did his wealth drop from $16 billion to virtually zero, but he also squandered the money from his investors. 
So why is he not in jail yet and is instead allowed to enjoy himself in the Bahamas? The answer perhaps lies in his connections and more importantly, in where and how he spent all that money. 
Sam Bankman-Fried-the crypto conman
There was a time when Sam Bankman-Fried was labeled the Golden Boy of crypto. The eccentric 30-year-old multi-billionaire was one of the most influential people in the industry. 
Having founded the popular FTX crypto exchange, he rubbed shoulders with every who's who in the industry. His network spread from politics to venture capitals, from sports to the media. 
As CoinChapter earlier reported, FTT, the native token of FTX, tanked after worrying reports emerged about Bankman-Fried's trading firm Alameda Research. The revelation resulted in Binance CEO Changpeng Zhao saying his company would dump its FTT holdings, sending the FTX token tanking. 
Although Binance initially announced it would bail the exchange out, it backed out from the offer to buy FTX. This sealed SBF's fate and his crypto empire collapsed.
Before the collapse, his company was valued at more than $30 billion. However, in reality, SBF had arrived at that evaluation through deception and fraud. He took out large loans against the FTT, the value of which he artificially inflated to use as collateral.  
He constantly shifted funds between companies to trick investors that his balance sheet was positive. Moreover, Sam Bankman-Fried lent billions of dollars in customer assets to Alameda Research, his trading firm. This was money that was supposed to have stayed with the exchange to allow customers to trade or withdraw. 
His dramatic fall from grace sent the crypto markets tanking. 
So why is he in the Bahamas and not in jail? Well, FTX spent over $300 million buying several properties in the Island nation. According to Reuters, these were not only for senior FTX employees but also for his parents. 
But there were more beneficiaries of his criminal generosity. 
Sam Bankman Fried was a political ATM
Sam Bankman-Fried is no ordinary criminal. His strong connections, which have so far worked in his favor, did not come for free. Some of the money he swindled from investors and traders went to politicians. 
Although the ruling Democratic Party in the US received most of his donations, the Republicans were not deprived of his philanthropy. 
During the previous elections, he donated over $10 million to back Joe Biden's presidential campaign. 
According to a report by Open Secrets, the FTX founder is the sixth-largest political donor. His donations to political campaigns amount to nearly $40 million for the 2021-2022 cycle.
His nearly $37 million donation to Biden's party made him the "seond-largest donor to Democrats after George Soros," according to the Financial Times.
SBF also gave $1 million to the Senate Majority PAC and $6 million to the House Majority PAC, as per The Los Angeles Times report. 
But wait, that is not all. Sam Bankman-Fried's parents (both professors at Stanford law) are allegedly Democratic insiders. His mother, Barbara Fried, is a major fundraiser for the Democrats. She has raised millions from Silicon Valley for the party. Meanwhile, his father Joseph Bankman has reportedly drafted tax legislation for the powerful Democratic Sen. Elizabeth Warren. 
As CoinChapter earlier reported, Securities and Exchange Commission (SEC) Chair Gary Gensler's inaction in the FTX fiasco has raised suspicions. Was Sam the crypto industry's insider who reported to regulators? I guess the investigation will find out. 
Where is the US justice system? Why is SBF free? 
If any other person had swindled billions from investors, they would be in jail by now. However, money spent wisely can sometimes buy your freedom. However, one can only hope it is temporary. 
So is nobody in the upper echelons of US politics calling for his arrest? Well, they are. Some seriously, and some…let's call it, for show. 
Remember Democratic Senator Elizabeth Warren, who has deep connections with SBF's father? She has now called for a criminal investigation of Sam Bankman-Fried. 
Along with Senator Sheldon Whitehouse, she has sent a letter to the Department of Justice (DOJ) asking them to look into the "fraudulent tactics" of SBF. 
"We write to express deep concern over the disturbing allegations of fraud and illicit behavior that led to the collapse of cryptocurrency firm FTX Trading Ltd. …and urge the Department of Justice… to hold the company's executives accountable to the fullest extent of the law," 

the letter reads. 
Is this merely a face-saving measure or a genuine concern? Time will tell. 
Moreover, the House Financial Services Committee is tasked to question Bankman-Fried. Representative Maxine Waters, a Democrat representing California, is the chairperson of the Committee. 
Many people have also pointed out the connections between Fried and Waters. 
Why is the media silent on the "criminal" SBF?
Considering the volume of the alleged crimes that Sam Bankman-Fried committed, the little attention he has received from the media is condemnable. 
Mainstream media, which will write endless pages every time Elon Musk sits or stands up, is conveniently ignoring all this. At best, they have thrown in a few token, generic articles in the news section. Rarely anything strong-worded. 
The New York Times, instead, is providing a platform for SBF to speak at a high-profile event. Other panelists will include Ukrainian President Volodymyr Zelenskyy, Meta (Facebook) founder Mark Zuckerberg, and Israel's PM-elect Benjamin Netanyahu, among others. 
Amid wide speculations, SBF has confirmed his participation. 
Meanwhile, Coinbase CEO Brian Armstrong has called SBF a criminal and slammed NYT for providing him a platform.
"Twitter has broken just about every piece of this FTX story using blockchain analytics, while NYT is writing puff pieces on a criminal. Feels like a turning point for citizen journalism and loss of trust in MSM," 
Many people are now wondering why is SBF receiving a hero's treatment instead of being condemned as what he is-a criminal. 
And one cannot forget how Fortune Magazine called SBF "the next Warren Buffet". So much praise for a fraudster. 
Recommended: John J. Ray III New FTX CEO as Sam Bankman-Fried Resigned, Files For Bankruptcy
Sam Bankman-Fried funded media houses
According to the journalist Teddy Schleifer, Sam Bankman-Fried was a generous supporter of several media platforms. 
He allegedly donated money to liberal news company VOX media. The company owns several platforms, including The Verge, SB Nation, and New York, among others. 
He has also allegedly invested in Semafor, which former New York Times columnist Ben Smith and Bloomberg media officer Justin Smith launched weeks ago. 
Investigative news platform ProPublica is also one of the beneficiaries, having received a generous $5 million donation from SBF.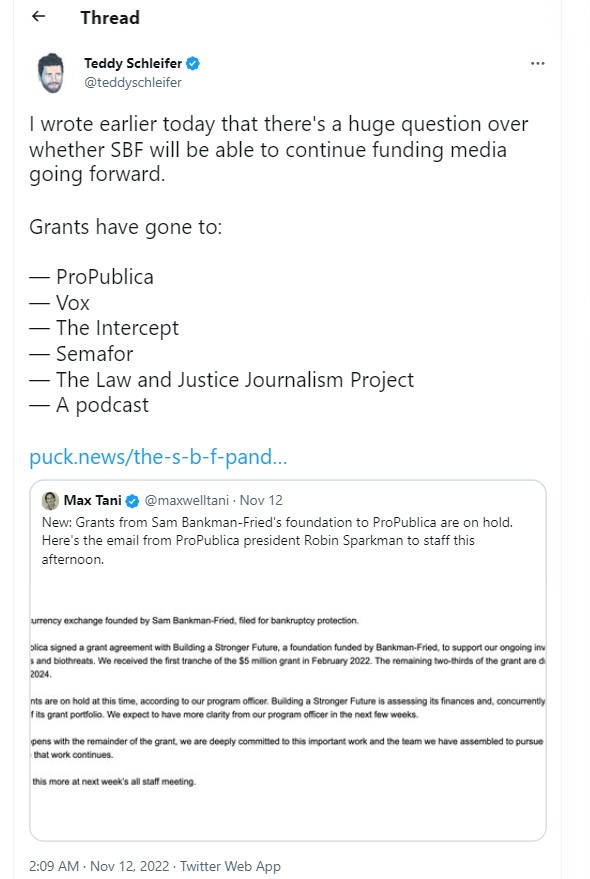 Our protagonist has also reportedly pledged $3.25 million to First Look Media's The Intercept. He had already paid $500,000 to the company before his downfall began. 
Each of these platforms has deep connections in the industry. It is no wonder then, that SBF is being shielded from widespread criticism. 
Weeks after the first reports of his crimes emerged, Sam Bankman-Fried is still roaming free. It is evident, that the US Justice system has failed. 
Disclaimer: This is an opinion piece. Views expressed in the article are purely that of the author and may not necessarily reflect that of the company.
The post Sam Bankman-Fried is a criminal fraud. Is he avoiding arrest because of his political connections? appeared first on CoinChapter.