YEREVAN (CoinChapter.com) – South Korean metaverse exchange-traded funds (ETF) are running into heavy losses.
To recap, the metaverse refers to virtual reality made famous by blockbuster science fiction like the Matrix and Ready Player One. So, it provides an environment to people that is entirely based on the web but reflects activities similar to real lives, such as attending classrooms, buying real estate, or constructing homes — all on the internet.
Exchange-traded funds (ETF) that focus on metaverse projects provide investors indirect exposure to the so-called booming sector. These funds invest in globally-listed metaverse securities while offering their shares to the public.
However, not everything is going well with these investment products.
How bad has each South Korean Metaverse ETF performed? 
For example, Mirae Asset TIGER Fn Metaverse ETF, one of the biggest metaverse funds in South Korea, has declined 48%—from 14,565 Korean won (about $11) in November to 7,540 Korean won ($5.80), data from Google Finance shows.
Trade volumes of Mirae Asset TIGER Fn Metaverse ETF have also dropped from 6.3 million in November to less than 800,000 in June 2022.
The situation with Samsung KODEX K-Metaverse Active ETF is no different. It opened in October at a little over 10 won but spiked in a month to fetch over 15 won in November. The trade volume also saw a massive jump from 465,000 to 9.9 million. 
However, it has slumped about 50% and currently goes for less than 8 won. Moreover, in the past 24 hours, Samsung's Metaverse ETF has shed 2.6%, extending its negative chart performance. 
Meanwhile, KB KBstar iSelect Metaverse ETF has slipped under 7 won after having hit the market at 10,160 last October. At its peak, the ETF fetched as high as 13.73 won, showing a 49% decline since November.  
Its sales volume has crashed to 110,000 from its peak of 4.2 million.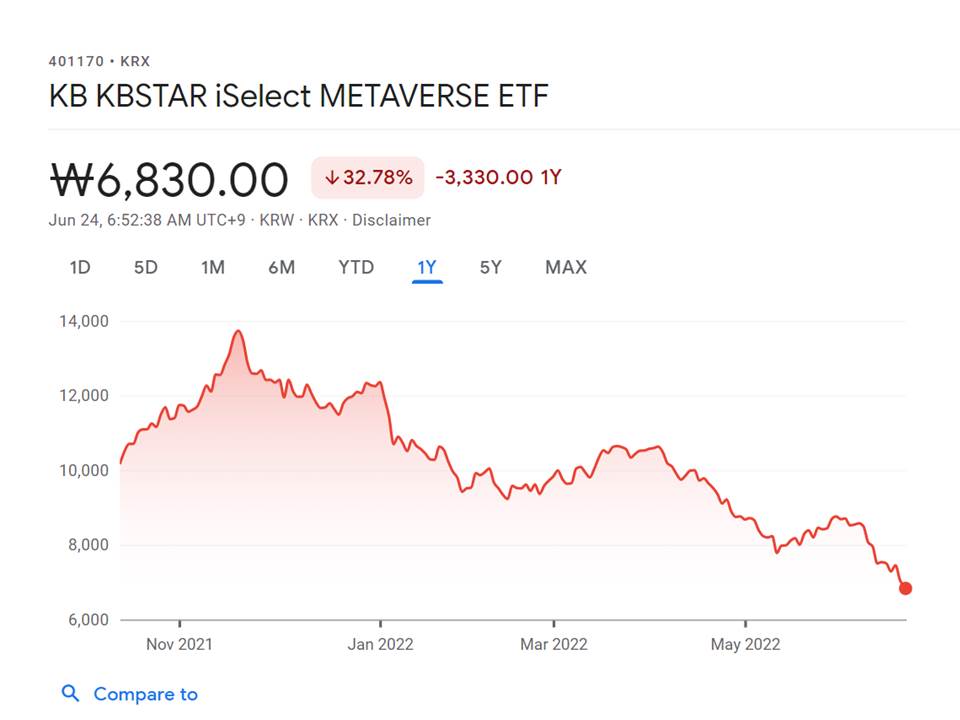 However, despite the slump in Metaverse exchange-traded funds, all is not lost. South Korea's Government has committed an investment of around $177.1 million to grow the industry and make the country a global leader. Maybe that will help Metaverse ETFs recover.
A look into the South Korean Metaverse ETF industry 
According to data compiled by Statista, the global metaverse market was worth nearly $39 billion in 2021. Moreover, market watchers expect its value to rise to $47.48 billion in 2022 before soaring to $678.8 billion by 2030.
Against such soaring popularity, the first Metaverse ETFs in Asia established their footing in South Korea.
The country's initial four metaverses ETFs launched in October 2021, drawing inflows of $100 million in under two weeks, according to Rahul Sen Sharma, managing partner of Indxx.
The first four large South Korean metaverses ETFs were N.H. Amundi Asset Management's Hanaro Fn K-Metaverse MZ, Samsung Asset Management's KODEX K-Metaverse Active, KBSTAR iSelect Metaverse, and Mirae Asset Global Investment's Tiger Fn Metaverse.
Subsequently, as the buzz attracted more investors, the number of ETFs on offer increased. By January 2022, the inflows of the 8 ETFs on offer in South Korea crossed $1 billion, indicating a sustained demand. 
In February 2022, NH-Amundi Asset Management launched its second metaverse ETF. The HANARO U.S. Metaverse iSelect ETF invests in metaverse-related companies in the United States.
The funds trading in South Korean metaverse stocks attracted most of the investment. Reportedly, over $800 million from retail investor funds went to 4 such ETFs. 
The funds managed by Samsung Kodex K-Metaverse Active ETF, for example, include shares of Hybe. The South Korean multinational entertainment giant owns the music label for popular K-pop group BTS and singer Lee Hyun, among others. 
In contrast, over $338 million went to other global ETFs offering Metaverse exposure.
Country's top ETFs wounded but not out? 
Within the first month since their launch, prices for Mirae Asset Tiger Fn Metaverse ETF and Samsung Kodex K-Metaverse Active ETF, rallied nearly 25%. By November, they had spiked by at least 45%, according to Market Insider. 
Their third popular South Korean counterpart, the KB KBSTAR iSelect Metaverse ETF, also rallied 34% by November. 
However, these rallies did not last long. As the 2022 bear market kicked in, the country's ETF industry took a hit. 
According to a report by FT's Ignite's Asia, which sighted data from Korea Exchange (KRX), the largest three metaverse ETFs have average losses of around 29%.
Recommended: Top Metaverse Tokens to Watch in 2022: ApeCoin (APE), Sandbox (SAND), Parody Coin (PARO)
The post South Korean metaverse ETFs underperform amid broader crypto selloff appeared first on CoinChapter.